The story of Lancaster KB-976 is an interesting one since it was both the beginning and, sadly, the end of the first real flying aviation museum in Canada.

I was a pilot in the RCAF over a 10 year period, Regular and Reserve, extending from 1954 – 1964. During that time I witnessed, and actually participated in the departure of several famous types from Canada's inventory. I was last to check out on the P-51 Mustang with 403 City of Calgary Squadron RCAF and last to fly the Hawker Sea Fury. And then, I was the last to pilot the Avro Lancaster in RCAF service, but that is getting ahead of the story.

The museum story started when I was 25 and ended when I was 29.

As the Mustangs were retired from the RCAF I obtained a contract to fly something like 70 surplus aircraft to their new owners in the States. Milt Harradence, an ex-403 Squadron pilot would accompany me. While visiting the old RCAF Station Macleod, in southern Alberta to inspect Mustangs stored there, we saw a large number of Lancasters being prepared for the melting pot. I decided to save one as a memorial to the many who trained under the British Commonwealth Air Training Plan, during World War Two. Nearly 140,000 students graduated from this program.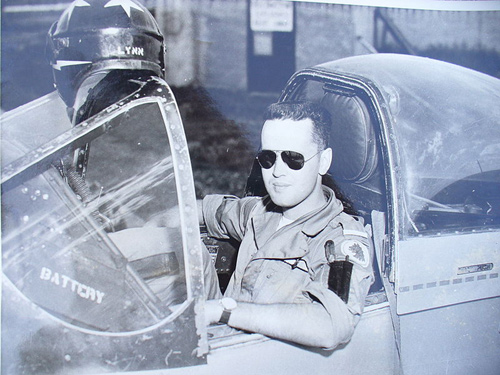 F/O Lynn Garrison, 1958 aged 20

After some negotiation, I purchased Lancaster FM-136 without engines. Four Merlins for the ferry flight to Calgary were borrowed from the RCAF and FM-136 was serviced by volunteers from local 886 International Association of Machinists, working with Canadian Pacific Airlines Repair. It would be mounted on a pedestal at McCall Field, Calgary's international airport during the spring of 1962. (In 1993 I would return to Calgary to block its sale, by the City of Calgary, to the Confederate Air Force. As a result of this, it remains on display there.)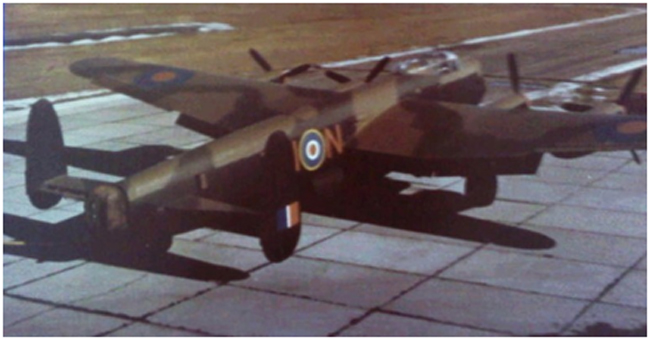 Lancaster FM-136 in February, 1962 immediately after being painted for memorial.

As a result of the Mustang ferry project, James DeFuria, the American purchaser, gave Milt Harradence, and me, a pair of Mustangs that were registered as CF-LOR and CF-LOQ. Milt flew his for a while until he just had to have a Dehavilland Vampire. I found one for him and he sold the Mustang which now flies as Checkertail Clan, N-1451D.

At this point I decided to collect aircraft for a museum and started the Alberta Aviation Museum with a box of letterhead and portable electric typewriter. There were hundreds and hundreds of War Two aircraft scattered across the prairies, sitting in farmyards since being towed from local airfields by purchasers interested in gasoline in their tanks and other small things. The basic aircraft remained.

Farmers were pleased to help, and made their surplus equipment available to me. A local trucking company supplied a vehicle to haul the display items to the Shell oil pipe yard in north eastern Calgary. Shell was kind enough to let me store my aircraft there and use their rail siding.

In no time I had 2 Mustangs, Bollinbrokes (3), a Lysander, Fleet Finch, Tiger Moth, Fairey Battle (2), Avro Ansons Mark 11 and V, Stinson Reliant, Fairchild Cornell, Airspeed Oxford, Cessna Crane, North American B-25, Nordyn Norseman, Harvard, Yale, 2 Hawker Hurricanes, all accumulated locally plus a Supermarine Spitfire AR-614 from the United Kingdom, an F4U-7 Corsair 133693 from France, a B-24 (HE-771) Liberator from India, a Dehavilland Mosquito (RS700 – CF-HMS) from Spartan Air Services, a TBM Avenger, Seafire, and a few aircraft purchased from the Canadian government. A T-33 Silver Star serial 21001, the first acquired by the RCAF with 210 hours on the airframe: (My son Tony, a lifetime later, would purchase the last RCAF T-33 133648) a CF-100, Sikorsky S-51, a Vought Kingfisher, salvaged from a British Columbia mountain top, and - unfortunately – two F-86 Canadair Sabers in Golden Hawk colours. In all, I would have 57 aircraft, plus a lot of bits and pieces, plus others promised.

My then wife, Evelyn, did without most things a young woman would expect from life, in order to find the funds needed to acquire another piece of history. She should be remembered for this.

In 1963 I founded the Calgary International Air Show as an annual event to fund and publicize the project. It was to be held each July. As we were working up to the 1964 show, and final exams at university, I was offered a Lancaster for $1,500.00. There was a scramble for money, and $1,500.00 was real money in '64, especially to someone in school with a wife and family. I had just purchased a new house for $12,200.00 and, in 2013, it is worth something close to $400,000.00 on today's market.


Original bill of sale, courtesy of Lynn Garrison



A few weeks later Lancaster KB-976 was flown into Calgary and parked in front of 403 Squadron's hangar. The crew climbed out and left everything but their headsets in place, handing over the log books before taking another flight back to 408 Squadron.

The aircraft arrived sometime in April, 1964 as we were planning that year's air show. As soon as I saw KB-976 I decided I would fly it, one last time, but didn't tell anyone. I would walk around the aircraft. I would climb in the starboard rear door, immediately in front of the horizontal stabilizer, and make my way up to the cockpit, climbing over the massive main spar, en route. Without any Pilot Handling Notes, I managed to start the engines using experience from the Mustang. Sitting there, I would listen to the rumbling of 4 Merlins and watch reactions on various system indicators.

I gradually became confident in my plan.

Others knew of my record, with other types, but suggested the Lanc was something else. I should let an experienced Lancaster captain fly the aircraft, with me as copilot. At the time 403 Squadron had an ex-Lancaster pilot with something like 1900 hours on type. Bill agreed to show me the ropes and arrived one Saturday morning for the first lesson. We did a quick external and then made our way to the cockpit. Several squadron mechanics stood by to pull the chocks since Bill was going to show me how to taxi. He looked around, as though expecting something. Unsure of how to start the engines, I got them going for him. (Bill had always enjoyed the support of a flight engineer who handled things.) After a few minutes my friend waved the chocks away.



I stopped this, pointing at the Brake Air Pressure Accumulator gage which was sitting near zero, while those that indicated the individual brake pressures sat at a couple of hundred pounds.

Unlike American aircraft, many British types had air brakes with a squeeze handle on the control wheel. Pressure to left and right brakes was controlled by the rudder pedals with equal pressure, to both, with the pedals centralized.

A few more minutes passed.

Impatient, Bill again waved the chocks away. I pointed to the accumulator pressure, still near zero, and he snorted something to the effect that he knew what he was doing.

Chocks away!

Bill opened up the 4 Merlins, to overcome inertia. The 4 spluttering engines surged to a cutting roar! The bomber moved forward, accelerating. Bill reduced the throttles, engines spluttering to idle, and applied right rudder, squeezing the brake handle to swing us down the taxiway.

With a decreasing hissss, what little pressure had built up was rapidly depleted, having little effect on the aircraft heading. Throttles yanked back against their stops, the Lancaster rolled sedately forward to become wedged in the poplar trees surrounding the squadron hangar.

Mixtures into Idle-Cut-Off and props spun into silence.

Bill climbed out and departed. "He had an appointment to take his wife shopping." I was left to hook a chain around the tail wheel strut and tow the Lanc back to its starting point.

I was now committed to a do-it-yourself approach. I would captain the aircraft. We needed a Department of Transport approval for one flight. The Mustang ferry project had seen us have the individual aircraft serviced, and then signed out by a qualified engineer. I would use this procedure.

It was so simple.

Wrong!

The Lancaster type had once received a full Certificate of Airworthiness. In order to be flown for a single flight, it would have to go through the entire process. By this time the DOT knew what was on my mind and threw this roadblock in my path, sure that it could not be overcome, without many thousands of dollars in mechanical work.

We had invited Paul Hellyer, Canada's Minister of National Defence, as our Guest of Honor for the 1964 Calgary International Air Show. He was a close friend of Art Smith, a War Two Lancaster pilot, DFC, and recent Member of Parliament for Calgary, South. Art was on my air show committee. I asked Art, and Art asked Paul Hellyer, and the Minister said we could fly it in RCAF colors, as an RCAF aircraft for one last flight, sending a letter to this effect.

I forwarded the letter to our DOT office in Edmonton with the question as to qualification for the pilot. Dick Beatty, the Regional Director of Air Services phoned me to say…"Multi-Engine Commercial so you can fly it…" He had known all along what my plan was.

Brian B. McKay had helped find the cash, so he said he would go along. Ralph Langemann decided he would go, as did Joe McGolrick. Jimmy Sutherland was proposed by Tony McCarten, whose company had serviced the Lanc for me, since Jimmy had been a Lancaster Flight engineer during World War Two. People thought I was crazy but the insanity must be found in my crew, since they knew I had never flown a Lancaster, and had to carry me out to the aircraft, due to my broken ankle.





At the last minute, someone had given me a four page Xeroxed Lancaster Check List so we buckled in and followed the program, searching for, and discovering, new things, as we went.

We were ready to fire up!

We started the starboard outer, then the starboard inner, turning our attention to the port side and the other two, we lost the starboard outer, and had this pointed out by Brian McKay. Got it restarted and we were finally on the way with McKay standing behind me, holding a ten channel Skycrafters transceiver on his head, its headset over my ears. We had assumed that we could get the aircraft radio to operate, but couldn't.

KB976 at start up. Garrison is just visible in the cockpit window.

With my broken ankle , I was relieved to have a hand-operated brake system.

Cleared to Runway 34, a short distance from where we were parked, our run-up was soon complete. I moved onto the runway to receive both a green light and radio call clearing us for take-off. The controllers didn't have much faith in the tiny Skycrafters transceiver.

As part of my research, I had talked with Ben Budgeon who flew North Stars, with the same engines. He told me to lead with the right throttles to overcome torque, opposite to that of the Mustangs.

Shoving throttles forward, four Merlins took over and launched us down the runway, tail rising as our airspeed built towards lift off. Ralph Langemann placed his hand over mine, taking control of the quadrant as we skipped into the air. With a nonchalant nod to Jimmy Sutherland I shouted "Gear Up!" and he reacted.

As the undercarriage started to cycle, there was a gigantic, explosive bang. The cockpit filled with dust and noise! We were slewing to one side. I thought we had lost an engine!

I don't know what the others thought.

Not a good first flight!

An explosion and engine failure on lift of is not an optimistic start.

The Lanc straightened out.

The dust cleared.

The four Merlins were functioning.

What had happened?


A lower hatch, that previously housed the radar antenna had blown up into the nose compartment, where Joe McGoldrick was perched. The asymmetric reaction was caused by the main gear coming up, one at a time.

No problem!

We were on our way!

And so, Ralph Langemann and I flew Lancaster KB-976 around and across McCall Field, at varying heights and speeds, accompanied by my Mustang and a P-40 owned by Bob Warden. During one pass we ran directly over FM-136 on its pedestal, creating a classic shot of KB-976 and the Lancaster Memorial.

FM-136 is now a permanent display in Calgary's museum, without even a mention of my name or involvement. That's life. At least the aircraft was saved for future generations.

We entered the downwind leg, of our approach, and Jimmy Sutherland dropped the undercarriage. I compensated with a touch of throttle turning onto a 90 degree base leg and then onto final, dropping flap as we lined up on 34. "Gear Down" and Jimmy Sutherland went into action again. Some trim to overcome control pressures on the wheel.

Over the fence. Throttle back. Hold off, waiting for the big bounce I had been warned about.

Squeak…squeak… a greaser, and we were rolling straight down the runway, slowing at the first turn off for the short taxi back to our parking place.

Braking to a stop, crewmen placed metal chocks in front of the Lanc's big main wheels. Sutherland pulled four mixtures into Idle Cut Off. Our historic flight was over as silver props spun into silence.

The RCAF Harvard demonstration team was sitting there watching. A Wing Commander in charge, who was once commander of the Lancaster Operational Training Unit, murmured, on seeing the landing…"Shows what good training will do…" One of his pilots said.. "Believe it or not, that was their first flight." The Wing Commander wouldn't accept the fact until Art Smith commented that evening, as I was carried to the head table and placed on a chair.

A week later, when the swelling had decreased, I had a DOT medical, for renewal of my Commercial License. Same day I got a cast on my broken ankle and would fly Harvards on hail suppression for the university holidays. Trying to brake a Harvard, with a cast, was exciting, but that's another story.

In April, 1964 the museum project took on an official foundation. The Air Museum of Canada was incorporated as an Alberta non-profit with 100 voting shares. I held 98, my wife held one and my mother held the other. I named a few friends to the non-voting Board of Governors, a move I would regret – in 1966 - when these friends staged a palace coup after Milt Harradence attacked me.

Another year passed and we were again focused on the air show. This time it would be in support of The Air Museum of Canada and would feature an RAF Vulcan from 617 Squadron, plus a lot of other aircraft. KB-976 was a static display.

Photograph provided by courtesy of Dick Richardson
KB976 in RCAF colours just after retirement as an airshow exhibit.





Over the past 12 months I had acquired a CF-100, T-33, Sikorsky S-51 and now scrambled to come up with cash required to purchase a pair of freshly overhauled Canadair F-86 Sabres in Golden Hawk colors.

I borrowed $1500.00 and gave a Lien against the Lancaster's Title.

Milt Harradence saw the Sabers and had to have one. I explained that we had acquired them under a 'mutilation agreement' requiring cut main spars, if we disposed of them. He just couldn't take this as an adequate answer and continued to press. After all, we had flown together, he was my best friend and had stood as my Best Man when I was married.

Yet another year passed, and the 1966 show was sure to be a winner. The Americans had promised 10 different acts, including the USAF Thunderbird aerobatic team.

Milt was still pressuring and asked if he could have one, provided he got government approval. I agreed and said this must be in writing. Charlie Drury, the Minister of Commerce soon called to say I could let Milt have a Sabre. I asked for confirmation in writing and – obviously – the minister discovered what was involved, and never wrote the letter.

Milt insisted that I sign the aircraft over to him, in trade for two Dehavilland Vampires.

I refused, saying I had an agreement with the government and had explained this to him at the very start. He offered to defend me in an action that might result. Now, Milt was one of the top trial attorneys in Canada, and had exceptional political connections. I countered with a comment to the effect that there would probably be no action, but the government would never sell me another display.

The fat was in the fire!

Milt sued me! Calgary's leading attorney against a poor university student, who happened, up to that point, to be his best friend! Unfortunately, Milt was a person who would not be thwarted, no matter what, by friends, family – anyone!!

He also set out to derail my application for the annual air show by forming The Calgary City Police Flying Club with one member, a tame sergeant. He tried to get approval for his show, on our dates.

He went to the guy who had the Lien on the Lancaster and bought the note. He then demanded payment – immediately!! Ernie Johnson stepped in and took over the Lien and the war went on.

I can remember the last appearance at the City of Calgary Aviation Commission as Milt fought for control. It was a frustrating situation that saw me finally react, with the comment: "You must understand that the displays are committed to the Air Museum of Canada, and not the City of Calgary…" This drew a raucous chorus of laughter, from the committee members, and the meeting was adjourned for another week.

I walked out of the City Hall and stood on its steps as my supporters. All wished me the best of luck, but they couldn't go forward to Red Deer. We shook hands and I got in my car for the drive to RCAF Station Namao, outside Edmonton, Alberta, for an agreement to stage my American acts from their facility. I then drove to Red Deer for final talks with aviation enthusiasts there, having started talks two weeks before. We agreed to transfer the air show to Red Deer. Calgary never had another air show.

I had something like 3 weeks to build an organization to support the project. Even as I was doing this, Milt Harradence flew to Nellis Air Force Base in an attempt to have the THUNDERBIRDs cancel their show. Team leader, Lieutenant Colonel Ralph Maglione refused and, when they flew over Calgary, on their way to Edmonton, they circled the city with their smoke on as a demonstration of support for me. The 1966 team members have remained friends, over the years, and Mag retired as a Major General.

The show was a success.

The Canadian government finally agree to let Milt have the Sabre and this was registered as CF-AMH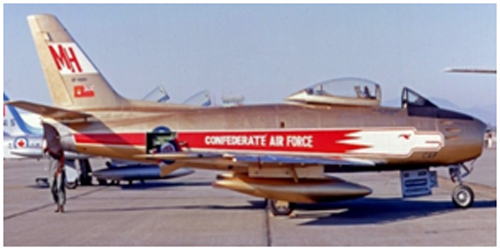 Photo credit Harradence family.

About this time I had some major offers from the film business and travelled to California for projects, hoping to generate funds for the first Canadian flying museum.

I was soon immersed in the Warbird community, which wasn't too big in 1966. Milt and I had a relationship with founders of the Confederate Air Force – Connie Edwards, Lefty Gardiner, and Lloyd Nolan. Milt was a Colonel but I never joined. However, at my suggestion, they started to paint CAF in wartime colors, replacing the overall white scheme with red and blue trim.

I sponsored the 1966 Los Angeles International Air Show, at Brackett Field, adjacent to the LA County Fairgrounds with over 50,000 attending the two day production. Chuck Lyford did an F8F Bearcat routine that started with short take-off and climbing roll as wheels retracted.

Spectacular!

Over the coming weeks, we all flew at a number of shows, talking about World War Two aircraft in our spare time. The people from Seattle were fascinated by my tales of stored aircraft and moved to obtain funds to service and fly a few of my items as first examples of a flying museum. Since the Lancaster, Vampire and F-86 were already nearly flyable it was decided to start with these. Lyford and Clarke had exceptional contacts in the upper levels of Seattle's aviation, and financial community. One of Boeing's hangars at Paine Field was offered.

The Lancaster could serve as a cornerstone for what could come. We would service it, paint it and do the air show circuit.

Chuck Lyford, (P-51), Gil Macy, (P-40) John Church, (F8F) Joe Clarke, Jim Larsen, (one of the great aviation photographers, and aeronautical engineers), and I flew off to Calgary to on a recce mission, to look at KB-976 and see how many weeks it would take to get the Lancaster into shape. It had been sitting there since July, 1964. We would then take it to Paine Field, in Washington State, where it would be painted and readied for the air show circuit.

Picture by Jim Larsen.
May/June 1967 Calgary, McCall Field. The aircraft had been in this spot since 1964.
Chuck Lyford in the cockpit, John Church standing under the nose,and Gil Macy standing under the rear of the aircraft.
I had tried to reach Ernie Johnson by phone, prior to boarding the flight, but he was unavailable. This was a normal condition with Ernie. As one of Canada's top eye-ear-nose specialists, he was always in great demand.
And so we arrived in Calgary. I left them at the terminal building with instructions not to go near Lancaster KB-976 until I made contact with Ernie to give him his $1500.00 and clear the Lien.

Since my wife and family were still living in our home, I caught a ride to the house to pick up my car and call Ernie. He was still not available. Nothing unusual. This was before the time of cell phones, so I headed back to the terminal at McCall Field. When I arrived, some friends said my team had gone across the field to look at the Lancaster.

I discovered them surrounded by police. Someone thought they were trying to steal the Lancaster. When I arrived, we were all taken to the police headquarters, in downtown Calgary. Ernie Johnson appeared and was embarrassed at the situation.


When we arrived at the station, I moved to make a phone call to my wife, alerting her to the situation, so she could make a few calls to strategic people.

At this point, Detective Sergeant Simmonds lunged across the room, punching me in the face with three quick blows, yelling…"When you're under arrest you don't make calls!"

Another policeman said…"He isn't under arrest!"

Simmonds replied, "Well, he is now!"

About this time, Milt Harradence walked past the door and looked it, spotting Clarke, Lyford, Church, and Macy, instantly recognizing them. He grabbed an Inspector and told him who they had and they had better spring everyone or there would be some serious repercussions. Joe Clarke's father was chairman of the American Petroleum Association. Lyford was married to Mary Reed of the Simpson-Reed Lumber group. Church's family headed a major pickle corporation and Gil Macy's partner was Founder and Chairman of the Flying Tiger Line.

Everyone else was released and, since I had been arrested, I was tossed in a cell overnight, to wait for a Magistrate. I can remember lying there, passing in and out of consciousness, not sure that I would see the morning. No one would call a doctor.

At 9 A.M. a Magistrate arrived and the charges were dismissed. My wife picked me up and drove to the hospital where I was admitted. Three weeks later I was still in a condition that precluded flying. I had suffered some broken bones and a concussion.

During those days, I had decided to leave Calgary for good. I visited Eric Harvey, the founder of Calgary's Glenbow Foundation, one of the world's leading museum groups. Harvey was the richest man in Canada and had been my father's friend since they served in World War One. Harvey had been with the Royal Flying Corps and had already stated his interest in supporting my museum effort. He had recently purchased the Sikorsky S-51 helicopter for me and was committed to building a home for the collection.

I offered Harvey the collection, free of charge. He declined with the comment. "The aviation museum is a personality based organization. Without you, it will fail." At the time I did not appreciate the truth of this but subsequent events proved him right.

And so, I left the collection stored in Shell Oil's pipe yard, packed a U-Haul trailer with some possessions, loaded my family and set out for California, to play a part in the aviation and film industry. I already owned the collection of World War One replicas accumulated, in Ireland, for 20th Century Fox's The Blue Max. I had my personal F4U-7 Corsair – THE BLUE MAX for air show work, in the States.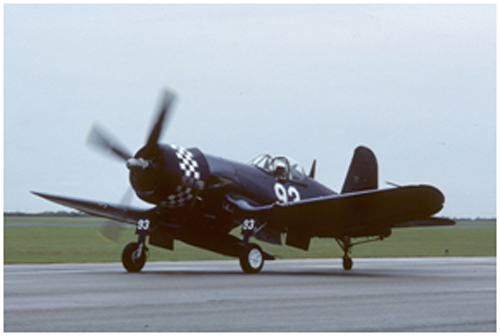 Lynn Garrison's Vought F4U-7 Corsair 133693 BLUE MAX
Obtained from French Navy, registered N693M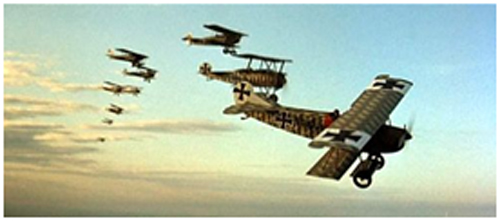 Lynn Garrison's collection of film aircraft Weston Aerodrome
Ireland, during filming 1969. Blue Max Aviation, Ltd

My Canadian associates found there was more to the project than being members of a non-voting board of governors. One by one they dropped away.

One remained. Peter D. Norman took over without checking the documentation. Although the Air Museum of Canada had been incorporated in April, 1964, none of the aircraft had been transferred into the company name. This small problem did not stop this guy as he disposed of my Supermarine Spitfire AR-614, a Hawker Hurricane, that was smuggled out of Canada, by Rem Walker, to become G-HURI, and a lot of other items.

Even as they tried to get KB-976 a Certificate of Airworthiness, under registration CF-AMD, so it could be flown for exhibition, (CF-AMC was on our 1909 Curtis Flyer), Ernie Johnson's interest in the aviation museum faltered when someone offered him $150,000 for Lancaster KB-976 and that was really the final straw in breaking down any possibility of Calgary having a meaningful aviation display. Since he had a Lien for $1500.00 against it he felt he also had the right to sell the aircraft, and he did. So much for team cohesion, and all that emotional garbage.

I never sold a single item, although I did give pieces away, to help others. One set of Hurricane wings made the Hurricane project, by Neil Rose in Vancouver, Washington, a success. And I donated my Vought OS2U Kingfisher to the North Carolina Battleship Commission. It now has a place of honour on the USS North Carolina.

Eight or nine of my original collection remain in Calgary.

My Mosquito, and one of my Hurricanes are now being rebuilt at the Bomber Command Museum in Nanton, Alberta. The City of Calgary had tried to sell them to someone in the UK for several million, but were stopped by a new generation of enthusiasts. Supermarine Spitfire VB AR-614 is now a beautiful display at Paul Allen's Seattle-based aviation museum. My Vought Kingfisher is now displayed on the North Carolina Battleship Commission, having been rebuilt by friends at LTV Aerospace in Grand Prairie, Texas.

My son Patrick and I still have three aircraft from the film collection, a Fokker Triplane and 2 SE5s. Well, actually, the 2 SE5s are his alone.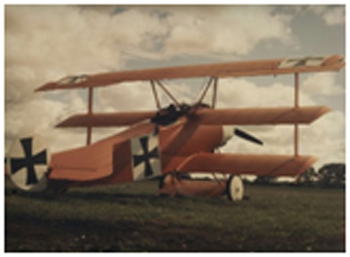 I didn't return to Canada until the June 1986 death of Rod, Milt Harradence's son, in a plane crash. I had baby-sat him as a young child and returned after the funeral, with my sons Tony and Patrick, to see Milt and his family. It was sad that we had lost all of those years.

I moved on to other things and presently head the Haitian Children's Fund, a team that has created the Satellite School System. It has a studio and uplink system that will bounce classes off an Intelsat satellite to any point in the country. The lessons will be collected with a dish antenna, receiver and wide screen TV, powered by solar panels, an inverter and batteries.

We might raise the literacy rate by a few points in the first 12 months.

Most of the others have passed on, leaving Ralph Langemann and me as the last men standing, after a wild and lengthy barroom fight.

Perhaps they did me, and the Haitian kids, a favor by destroying my hopes of creating and heading a flying aviation museum.

Of course, Lancaster KB-976 flew across the Atlantic to join the museum world there, finally bouncing back to Kermit Weeks' museum in Orlando, Florida, but those are other elements of KB-976's ongoing saga.

Lynn Garrison, July 2013