Lancaster KB976 in RCAF Service


VETERAN LANCASTER RETURNS TO UK
Originally from http://www.aircrew.org.uk/woking/W_News210401.html - this page is now unavailable.

Members of Woking Aircrew Association at their regular monthly meeting at the Fairoaks Flight Centre were treated to a lively and very humorous illustrated account of the adventures of an ex-Pathfinders crew and a very experienced ground engineer who went to Canada in the late 70s to fly a retired Lancaster back to Britain.
The speaker was Dick Richardson, who had the distinction of serving for 12 years continuously on the same RAF Station, rising from Corporal Fitter to Chief Technician, looking after Mark I and Mark II Vulcans, and subsequently taking on responsibility for maintaining the Battle of Britain Memorial Flight Lancaster. Following his RAF career, he became Chief Engineer to the Strathallan Collection of Vintage Aircraft owned by Sir William Roberts. It was in this capacity that he was sent to Canada to survey an ex-wartime Canadian built Lancaster Mk X parked at Calgary Airport, which had been converted as a Water Bomber, carrying 2000 gallons at a time to be dumped on forest fires.

Having scrounged necessary replacement parts from nine other derelict Lancasters of various vintages which he found dumped at Edmonton, he was joined by a crew led by Captain P A Mackenzie, ex-83 Squadron, who was then the Operations Director at British Caledonian Airways, and other B Cal crew members who had also flown Lancasters during the war.
They had a tremendous reception at their first port of call, Toronto, where the aircraft was originally built, with huge crowds to see them off, and much media coverage. On departure, the queue of impatient 747s in the takeoff queue were told by Air Traffic Control that "Today it is age before beauty" and had to wait until the Lancaster had completed a requested fly-past for the waiting crowds!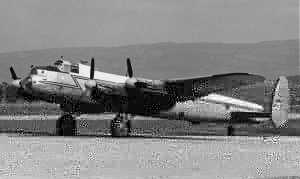 Similar attention was paid to their refueling stops at Halifax, Gander and Reykjavik, where it turned out that the British Consul was an ex-rear gunner, and so they were required to beat up the town before they left. On their return to UK they were, to their surprise, met and escorted in over Tiree by a Maritime Reconnaissance Nimrod, with wheels and flaps down and with 39 people on board, all clustering with cameras round portholes on the port side, upsetting its trim! Captain Mac asked the Nimrod Captain to "clean up his aircraft" so that they could get decent photos, which they subsequently exchanged to great glee all round.
They had another great reception at Glasgow Airport, after which they had to fly the aircraft onto an 800-yard dirt strip at its future home at the Strathallan collection, where it was repainted in 405 Squadron colours, but sadly, although its Merlin engines "never missed a beat" all the way across the Atlantic, it never flew again.
Dick Richardson finished his presentation with slides of derelict military aircraft he found all over Canada in various stages of disarray, but he could name every one, and his whole talk sounded as if it had happened only yesterday. He was given a heartfelt vote of thanks by all present, and our Social Secretary was urged to provide more speakers like Dick, PLEASE!

Above originally from http://www.aircrew.org.uk/woking/W_News210401.html - this page is now unavailable.